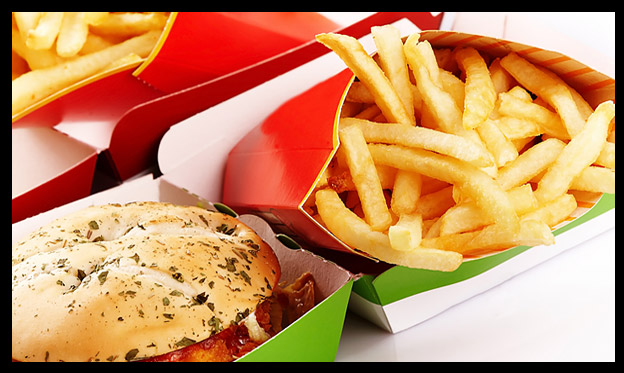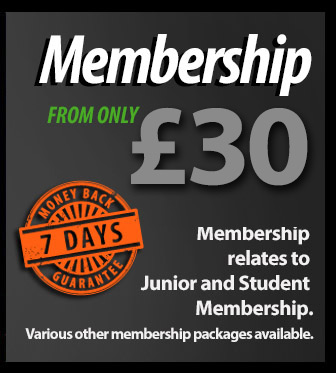 Back to Health & Fitness Advice
Poor Diet
Providing energy (calories).
Help with the absorption of fat-soluble vitamins, including A, D, E and K.
Providing essential fatty acids, which cannot be made by the body.
Types of Fat and Their Link with Health and Disease
There are three main types of fat: saturated, monounsaturated and polyunsaturated fats, which differ in their chemical structure, and to some extent, their functions in the body. Foods, which contain fat, are usually made up of a combination of the three types, in different proportions.
Saturated fats
Saturated fats are not essential in the diet, but according to the 1994 National Food Survey, published by the Ministry of Agriculture, Fisheries and Food, they provide, on average, 16% of the total dietary energy intake. High intakes of Saturated fats have been linked to high rates of coronary heart disease in at least two ways:
By increasing the levels of 'bad' cholesterol (known as LDL cholesterol) in the blood.
By increasing the tendency for blood to clot.
In an aim to reduce Coronary Heart Disease, the Government has set targets for reducing the amount of total fat and in particular, saturated fat in the average UK diet, to no more than 10% of total dietary intake.

Dietary Sources of Saturates
Full fat dairy products, including full fat milk, cream hard cheese.
Fatty cuts of meat and meat products, such as sausages, beef burgers, pies and
luncheon meats.
Butter and many full fat spreads.
'Hidden' fat in products such as: cakes, biscuits, savoury snacks, nuts, confectionery.
Monounsaturated Fats
Monounsaturated fatty acids are effective in lowering the 'bad' (LDL) cholesterol, when consumed in place of saturated fats. In this sense, they have a 'protective' role against the development of heart disease. In Mediterranean countries, such as Greece, where the diet is fairly high in fat (mainly
from olive oil, rich in monounsaturates) but low in saturates, they have a very low incidence of
heart disease.
It is thought that a diet rich in monounsaturates, combined with a high intake of fruit and vegetables (which supply antioxidant vitamins, minerals and fibre) may protect these populations from heart disease.
Dietary sources of Monounsaturated Fats
Olive and rapeseed oils and fat spreads made from these, nuts, seeds and meat.
Polyunsaturated fats
Many research studies have shown that linoleic acid, when substituted for saturated fats, are effective at lowering LDL cholesterol. At very high intakes, linoleic acid can also lower 'good' cholesterol (known as HDL cholesterol).
Dietary sources of Linoleic Acid:
Vegetable oils, especially sunflower, Soya and corn oil.
Margarines and spreads labelled 'high in polyunsaturates.
Some nuts, seeds and meat.
Alpha-linolenic acid is also found in vegetable oils, but the omega 3 family has a different role in the body. Alpha- linolenic acid can be converted into very long chain PUFA, which have an important role in preventing blood from clotting.
Dietary sources of these very long chain PUFA are:
Oil rich fish, including: salmon, trout, sardines, mackerel and sardines. Fish oils have been shown to have a protective role against heart disease, and other disorders.

Achieving a Healthy Balance of Dietary Fats
Choose a low fat spread or spread high in PUFA or MUFA instead of butter.
Use semi-skimmed or skimmed milk instead of full cream milk.
Buy the leanest cuts of meat you can afford; cut away visible fat.
Eat fish more often, including oil-rich fish. Grill, microwave, steam, or bake it rather than fry.
When you use oil for cooking, use sparingly, and choose one high in unsaturates, such
as olive, rapeseed, sunflower or corn oil.
Choose healthy snacks, such as fresh fruit, fruit buns, and teacakes, instead of cakes,
biscuits and pastries.
Dietary recommendations for fat
No more than 35% of food energy should come from fat, with no more than about 10%
from saturated fat.
Currently, on average, we are consuming over 40% energy from fat, about 17% of which
is from saturated fat.
With lifestyle evaluation and screening we can help you live long happy healthier lives!
EVERYONE CAN DO IT IF THEY REALLY WANT TO!!! LET US HELP YOU...

Thank you
for your
'Try Our Club' request
Your 3 Day Pass for Alpine
Health Club March will be
sent to you shortly.
If you don't receive your pass
please check your Junk E-Mail box.
FREE 5-DAY PASS
Simply fill in your details, and we will send you a "FREE 3 Day Guest Pass" with our compliments.
Opening Times
| | |
| --- | --- |
| Monday - Friday | 6.30 - 21.00 |
| Saturday | 8.00 - 16.00 |
| Sunday | 8.00 - 14.00 |
How to find us